Archive For April 8, 2015
Lehigh NG Tyler Cavenas
The 2014 numbers don't get any better when you look at them five months later.
Team Sacks: 104th.
Team Tackles for Loss: 118th.
Rushing Defense: 100th.
In order to have any chance of improving those poor numbers from 2014, one of the biggest areas for improvement will have to be in Lehigh's defensive front seven, a fact that head coach Andy Coen is all too aware of.
"When we put pressure on the quarterback it was because we were blitzing," he said in Lehigh's spring preview. "We need to be able to get a rush to the quarterback and create more of a mechanism to get after that guy. We have to get back to being more aggressive in that respect."
It stands to reason that Lehigh's defensive line will be the start of that aggressive defense. And fortunately, the Mountain Hawks have some young talent that started to emerge last year that could be poised to firm up this part of the defense in 2015.
Read more »
I actually feel bad for the schools and athletes of the MEAC.
Last year, the players and coaches of the schools of the MEAC knew that they all had an equal chance to compete for a national championship, just like all the other schools in Division I Football Championship Subdivision, or FCS.
But with the announcement of the Celebration Bowl, a postseason bowl game which rips the MEAC's champion away from the playoffs to face off against the winner of the SWAC, none of the talk anymore is about the athletes.
The talk on the internet around the bowl, financed and created, essentially, by ESPN, is how much money each host school could or could not bring home if they qualify for the game.
Rather than haggle over money, though, I think HBCU conferences are probably better served by doing something that probably has been needed to be done for decades – reorganizing.
The reason, oddly enough, is the bowl game.
Read more »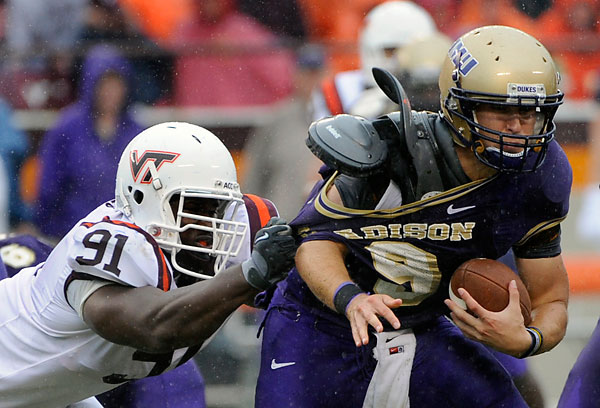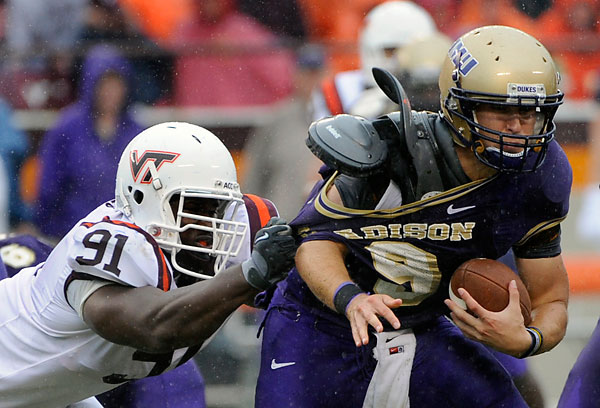 James Madison vs. Virigina Tech (HamptonRoads.com)
This article from the Virginian Pilot-Online might have escaped your attention, but it could be something that has deep-ranging effects on collegiate athletics.
While the bill only affects schools in Virginia, if other state houses take up similar legislation across the country, it could deeply impact and potentially hurt smaller public universities across the country.
The article, written by Harry Minium, says it like this:
Old Dominion, Norfolk State and many other state schools will have to depend more on fundraising and ticket sales and less on student fees to fund their athletic budgets under a bill signed into law by Gov. Terry McAuliffe Sunday night.
McAuliffe signed HB 1897 without any amendments. The bill, sponsored by Del. Kirk Cox, R-Colonial Heights, sets limits on the percentage of athletic budgets that can be funded through student fees.
"I am very happy to see that Governor signed the bill," said Cox, the House Majority Leader.
Cox said he introduced HB 1897 to try to slow the increase in student athletic fees, which he said has been one of the major drivers behind a 122 percent increase in tuition and fees since 2002.
At first glance, this bill might seem to have a worthy goal – an attempt to halt the reliance on certain public institutions on reliance on soaking students in order to fund their athletics departments. Look at the bill more closely, though, and you start to wonder if that was the intent of the legislation at all.
Read more »