Archive For The "Al Bagnoli" Category
Saturday's game is a personal landmark for head coach Andy Coen: it marks the first time he's coached a Lehigh team at Penn since he was hired there from Al Bagnoli's staff back in December of 2005.
He'll be facing off against another former Bagnoli assistant coach, Ray Priore, who was a defensive coordinator at Penn when Andy was an offensive coordinator there.
Franklin Field, then, becomes one of the big #NarrativeStreet storylines going into Saturday, and for Lehigh, not a good reason.
Since 1895, when the enormous field was built in downtown Philadelphia, Lehigh has won exactly four times at the iconic venue, and the overall Brown and White record there is 4-28. Along the way, among the many losses by Lehigh there, came one recent one in particular that snapped a long Lehigh regular-season winning streak.
Read more »
Offseasons are long after season-ending losses to Lafayette, but it seems like no game after a Lafayette loss has been as anticipated as this one.
All offseason – and I've been as guilty of this as anyone – there's always been question for the Mountain Hawk football team concerning a football game played last November:
"Did you actually watch a tape the 150th Rivalry game in Yankee Stadium last November?

"What was your reaction? Did you toss the DVD out the window, or set it on fire?"

"Do you think about that loss every day, or simply once a week?"
This Friday up at New Britain, Lehigh football players and their fans will finally have something to talk about that doesn't involve that infernal game in the Bronx last November.
Oddly enough, they are facing a team that comes from a similar place. The Central Connecticut State Blue Devils, 3-9 last season and in their second season under head coach Pete Rossamondo, wants to erase the memory of a six-game slide that doomed their 2014 season.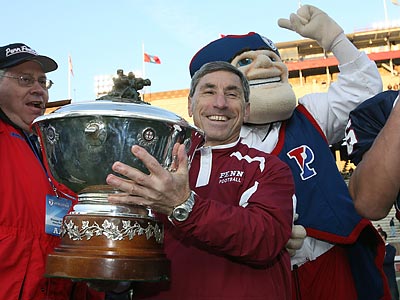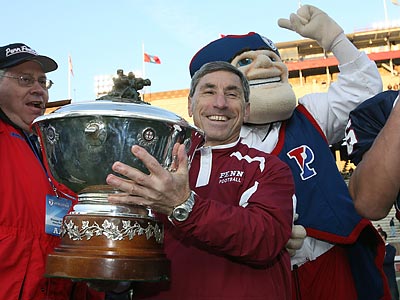 Lehigh's relationship with the schools of the Ivy League go all the way back to the 1880s.
Yes, really.
In 1885, Lehigh's fledgling football team opened the season with the University of Pennsylvania, who throttled the Brown and White 54-0.
1887 was the year that Princeton first squared off against Lehigh, throttling them 80-0
And it would be 1890 when Yale first hosted Lehigh, 26-0 winners.
These three traditional Ivy League football opponents appear on Lehigh's football schedule for 2015 and will be a critical litmus test for this your Mountain Hawk football team.
But one opponent stands out more because of the fact that Lehigh hasn't played them in more than a decade.
We're going to be talking today about Penn, a rival (with a little r) that hasn't faced off against Lehigh in over a decade.