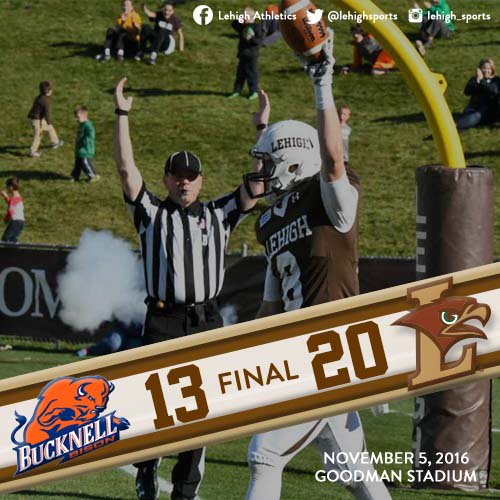 Bucknell hardly made it easy.
The Bison jumped out to a 7-0 lead, and made the lead 13-7 on the backs of touchdowns by RB Joey DeFloria and RB Chad Freshnock.
With a chance to build on their lead, though, Lehigh's defense stopped Bucknell again, and again, and again.
The Lehigh Mountain Hawk defense, led by heroic performances by senior LB Colton Caslow (11 tackles) and senior LB Pierce Ripanti (10 tackles), forced two turnovers that became a field goal by sophomore PK Ed Mish and a critical stop on Lehigh's doorstep that preserved Lehigh's Patriot League Championship.
It was a fitting place, in a fitting game, for Lehigh to take this elusive Patriot League championship and to allow Lehigh to finally crash an FCS Playoff party they had been denied five years ago.  They overturned their loss to Lafayette here in 2013.  They overturned their 4th-and-5 at Colgate last year by a sophomore CB Donavon Harris interception that preserved the slender 7 point lead.
It was tough as hell, but Lehigh got their, um, stuff together, and won the damn championship.
Read more »