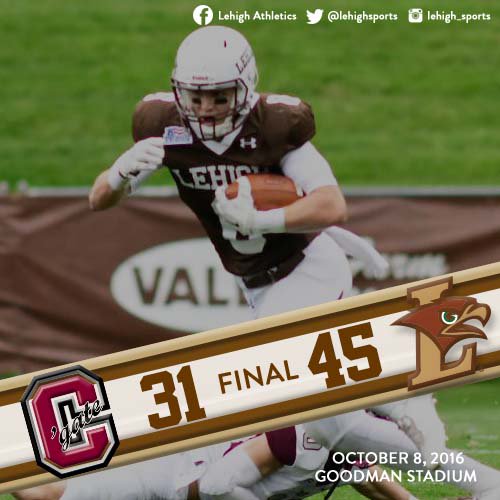 In all the pregame talk about an offensive showcase, we all forgot about how defense might be critical for the winning team in this important Patriot League Lehigh and Colgate clash.
Many saw the previous box scores and just assumed that Colgate's powerful offense, who put up more than 50 on Yale, would do something similar to the Mountain Hawks defense.
Not so.
After a 75 yard touchdown run by Colgate
QB Jake Melville
to start the game, the Lehigh defense forced two enormous turnovers, including a forced fumble by
sophomore SS Sam McCloskey
that was recovered by
freshman FS Riley O'Neil
on Colgate's first drive of the second half.
The play would allow Lehigh to tie it up with a 25 yard FG by
sophomore PK Ed Mish
, and it would fire off a string of 17 unanswered points that would give Lehigh a 31-17 lead that they would never relinquish.
Read more »