Archive For The "Michael Dereus" Category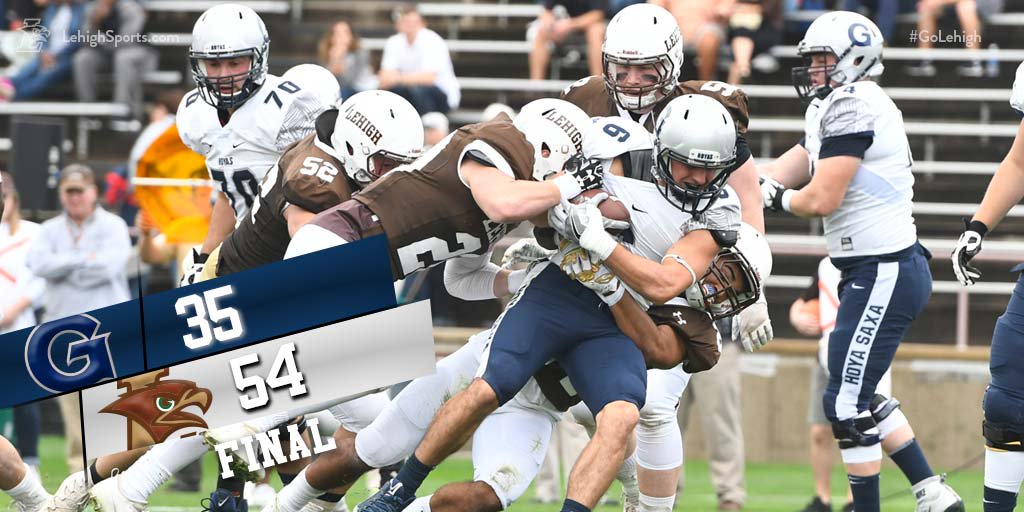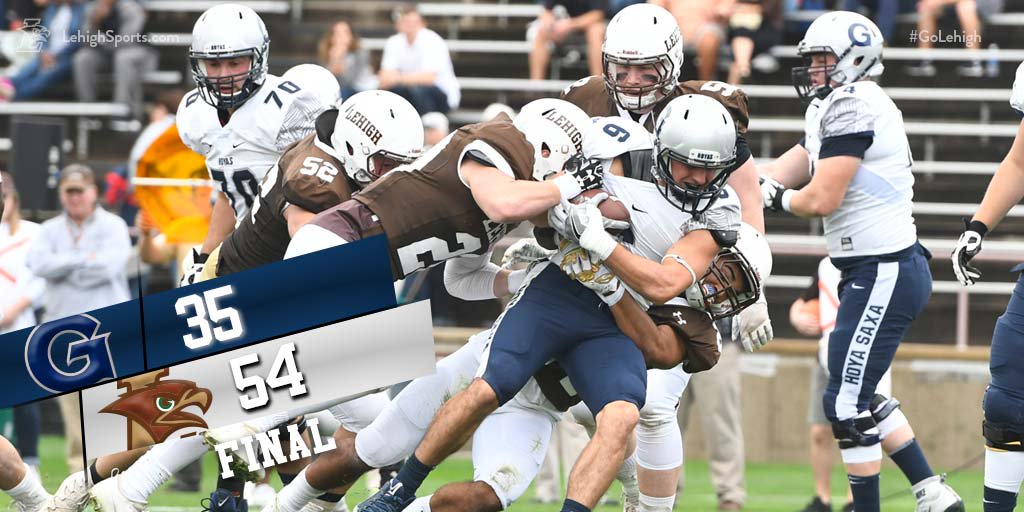 Before the game, the Lehigh sports social media team had some graphics ready for a record that senior WR Troy Pelletier had a high probability of breaking today.
Troy, or "The Doctor", as I call him, had to get 60 yards receiving to beat the Patriot League record for receiving yardage.
After he skied past that record, the social media folks had to keep assembling a lot more graphics.
By the end of the game, more records would be falling left and right. The career Patriot League touchdown record – the first time since 2001 since a Lehigh player nabbed 4 touchdown receptions in a game. Somewhere in the fourth quarter, he'd grab his 16th reception, breaking his own record for receptions in a game.
In the end, Lehigh cruised, never trailing in a 54-28 win over the Hoyas, but the story was Pelletier, whose amazing 16 catch, 197 yard, 4 TD game was the talk afterwards.
We break down the Georgetown game – and we give our fearless prediction below the flip.
Like many college football fans, I was surprised to see Maryland start out the season strong with a 3-1 record.
Their lopsided loss to Ohio State has taken some of the shine of the Terps early season, but if they can scrape three more wins against the likes of Northwestern, Indiana and Rutgers, they could be looking at a bowl bid and a successful, surprising season. (After the game this weekend, Maryland takes on Northwestern at 3:30 PM on ESPN2, incidentally.)
It's easy to pull for the Terps if you're a Georgetown or Lehigh fan.
First, former Lehigh head coach Pete Lembo is special teams coordinator, tight ends coach and assistant head coach to Maryland skipper D.J. Durkin. Lembo, a former Georgetown lineman, was head coach from 2001-2005, going 44-14 over that stretch and leading the Mountain Hawks to two Patriot League championships in 2001 and 2004. He happened to also be skipper during Lehigh's last two home FCS playoff games at Murray Goodman Stadium as well: vs. Hofstra (2001, Win) and vs. James Madison (2004, Loss).
The second reason to pull for the Terps, though, is their kicker.
Terps PK Henry Darmstadter was recently profiled in The Washington Post as having taken a very unlikely path to Big 10 football: through a three year football odyssey with Georgetown.