Archive For The "Sam McCloskey" Category
Spotlight On: S Sam McCloskey
Lehigh Sports issued a release Friday evening that announced Lehigh's team captains for the 2017 season.
Some of the names, senior OL Zach Duffy and senior OL Brandon Short, were hardly surprises – after all, they were team captains last year.
Another, senior DL Jimmy Mitchell, is a steadying leadership force on the defensive line – again, not much of a surprise.
But the presence of junior S Sam McCloskey as the fourth team captain raised some eyebrows. It's unusual to be a junior team captain, though QB Nick Shafnisky and LB Colton Caslow had been team captains as juniors.
As head coach Andy Coen explained, "What's really impressive is that in our ballots contain only seniors with the ability to write-in people. A lot of our guys obviously had to write in Sam, so that was really interesting to see. Our coaching staff feels he's ready right now to be a strong captain and his peers obviously feel the same way."
Read more »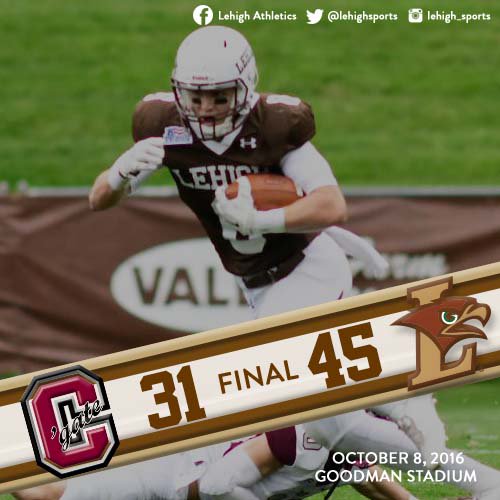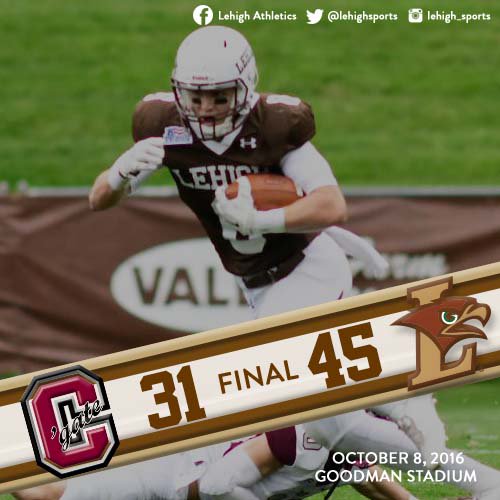 In all the pregame talk about an offensive showcase, we all forgot about how defense might be critical for the winning team in this important Patriot League Lehigh and Colgate clash.
Many saw the previous box scores and just assumed that Colgate's powerful offense, who put up more than 50 on Yale, would do something similar to the Mountain Hawks defense.
Not so.
After a 75 yard touchdown run by Colgate QB Jake Melville to start the game, the Lehigh defense forced two enormous turnovers, including a forced fumble by sophomore SS Sam McCloskey that was recovered by freshman FS Riley O'Neil on Colgate's first drive of the second half.
The play would allow Lehigh to tie it up with a 25 yard FG by sophomore PK Ed Mish, and it would fire off a string of 17 unanswered points that would give Lehigh a 31-17 lead that they would never relinquish.
Read more »
Death by boa constrictor does not come quickly. It comes when the snake puts light pressure on the circulatory system of its prey, seriously disrupting the blood flow and causing the bloodflow system to go haywire, eventually causing cardiac arrest.
That's a fairly accurate description of how the game flow went in Lehigh's asphyxiating opening-day loss to Monmouth, 23-21.
With visions of Lehigh's potent offense in their heads, most of the 4,828 fans in attendance thought they might see the type of offensive show they enjoyed the last time Lehigh played a football game at Murray Goodman stadium, something like the 49-35 win over their bitter Rivals Lafayette, for example.
Instead they saw the Monmouth boa constrictor slowly wrap itself around the Mountain Hawks and squeeze the life away, possession by possession.