Archive For The "Champions" Category
When Lehigh players, coaches and fans went to bed on Friday night, they probably had visions of the Mountain Hawks' powerful offense attacking, and overwhelming, Bucknell to coast to a share of a Patriot League Championship and the conference's FCS Playoff bid.
About ten minutes into the game, the 7,049 fans in attendance had probably figured out that if Lehigh was going to win a championship, it wasn't going to be won like that.
It was going to have to be earned. It was going to have to be grabbed from Bucknell, smashing them in the mouth the same way they were smashing us.
It cannot be emphasized enough how Lehigh had to earn every single inch of this Patriot League victory, how not easy this win really was.
How the Mountain Hawks fell behind, clawed and scratched back to get the lead. How they had to stop the Bison stampede at key spots, get crucial turnovers, and fire up critical, difficult field goals by sophomore PK Ed Mish. Even extra points, normally considered automatic, took on new dramatic tension.
The offense got punished on every single play up until the final couple of victory formations. But in the end, it was not only a victory, but a victory of the most beautiful, rare sort – the type of win that officially buries the past.
"Sometimes the hardest ones are the ones you enjoy the most," Coen said. "When you're winning a championship, it should be hard. Bucknell made it hard on us today, but we're the ones with the trophy and I can't be more proud of a group of guys than I am of these guys."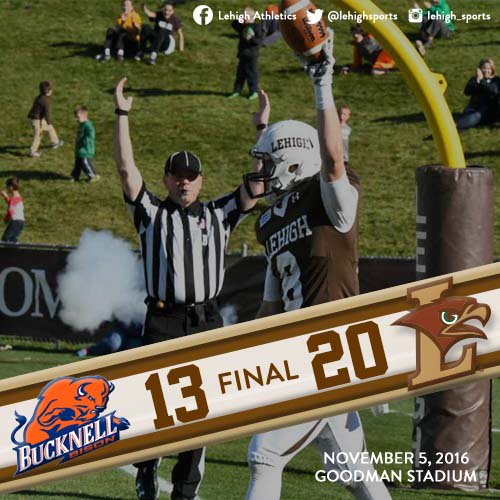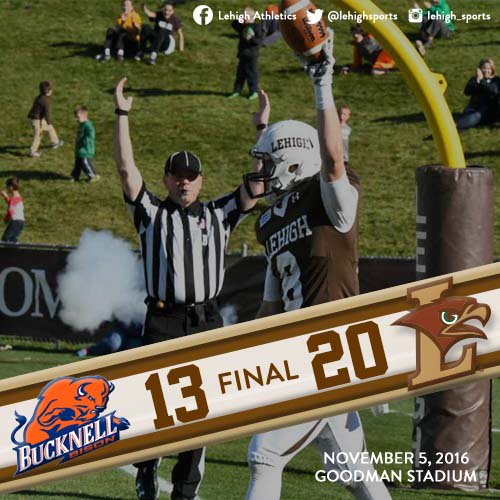 Bucknell hardly made it easy.
The Bison jumped out to a 7-0 lead, and made the lead 13-7 on the backs of touchdowns by RB Joey DeFloria and RB Chad Freshnock.
With a chance to build on their lead, though, Lehigh's defense stopped Bucknell again, and again, and again.
The Lehigh Mountain Hawk defense, led by heroic performances by senior LB Colton Caslow (11 tackles) and senior LB Pierce Ripanti (10 tackles), forced two turnovers that became a field goal by sophomore PK Ed Mish and a critical stop on Lehigh's doorstep that preserved Lehigh's Patriot League Championship.
It was a fitting place, in a fitting game, for Lehigh to take this elusive Patriot League championship and to allow Lehigh to finally crash an FCS Playoff party they had been denied five years ago. They overturned their loss to Lafayette here in 2013. They overturned their 4th-and-5 at Colgate last year by a sophomore CB Donavon Harris interception that preserved the slender 7 point lead.
It was tough as hell, but Lehigh got their, um, stuff together, and won the damn championship.
Read more »